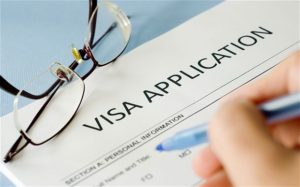 Perhaps, all travelers in planning any trip abroad will make a search on internet for visa requirement and the best way of application if required. When it comes to Vietnam and India, it is great news for almost travelers that both these countries offer visa on arrival which is considered a very convenient and simple way to obtain a visa.
Here, Vietnamvisa.org.in – a website specialized in Vietnam visa in India wanna make a comparison between Indian visa on arrival and Vietnam visa on arrival.
I. SIMILARITIES
1. Similar procedure:
The very first similarity that all can easily find that visa on arrival to these country is not the thing that you can pick up upon arrival in the country without doing nothing in advance. All travelers, needing visa on arrival to Vietnam or India, must apply online for approval first from competent local authorities (Vietnam Immigration Department and India Government respectively) via a local agency. The approval is called visa approval letter or Electronic Travel Authorization for Vietnam visa or Indian visa respectively. And then, by presenting such approval to the airline at departure airport, travelers will be allowed to get on board and by presenting it to the immigration officer at arrival airport, travelers will get visa stamped on passport.
2. Applicable travelers
Whether it comes to Indian visa on arrival or Vietnam visa on arrival, both of them are for air travelers only.
3. Where to pick up
As mentioned above, only air travelers can use this kind of visa and the full one will be picked up at airport of the destination country.
II. DIFFERENCES
1. Time to apply
Travelers to Vietnam can apply for visa on arrival to this country at any time as they wish, but highly recommended 2 days in advance at least, however, those to India and wishing to apply for visa on arrival must submit their online application no less than 4 days and no more than 30 days before the date of travel as the Electronic Travel Authorization for visa on arrival to India remains valid for 30 days from the date of approval only.
2. Times to apply
Vietnam visa on arrival can be applied for as many times as you wish, however, application for visa on arrival to India is limited to 2 times only in 1 year.
3. Visa fee
When using visa on arrival to Indian, you need to pay for visa fee once during completing online application, while when using visa on arrival to Vietnam, you need to pay for visa fee twice, the first one is made during online application, known as service fee and the second one is made in cash at Vietnam airport to get visa stamped, known as stamping fee.
This is a brief comparison between visa on arrival to Vietnam and India. In case you find any further similarities or differences, feel free to add us.

https://vietnamvisa.org.in/wp-content/uploads/sites/6/2016/05/vietnam-visa-tips.jpg
301
500
https://vietnamvisa.org.in/wp-content/uploads/sites/6/2017/08/Vietnamvisa-org-in.png
2016-09-19 14:59:11
2016-09-21 16:29:02
Indian Visa on Arrival v.s Vietnam visa on arrival